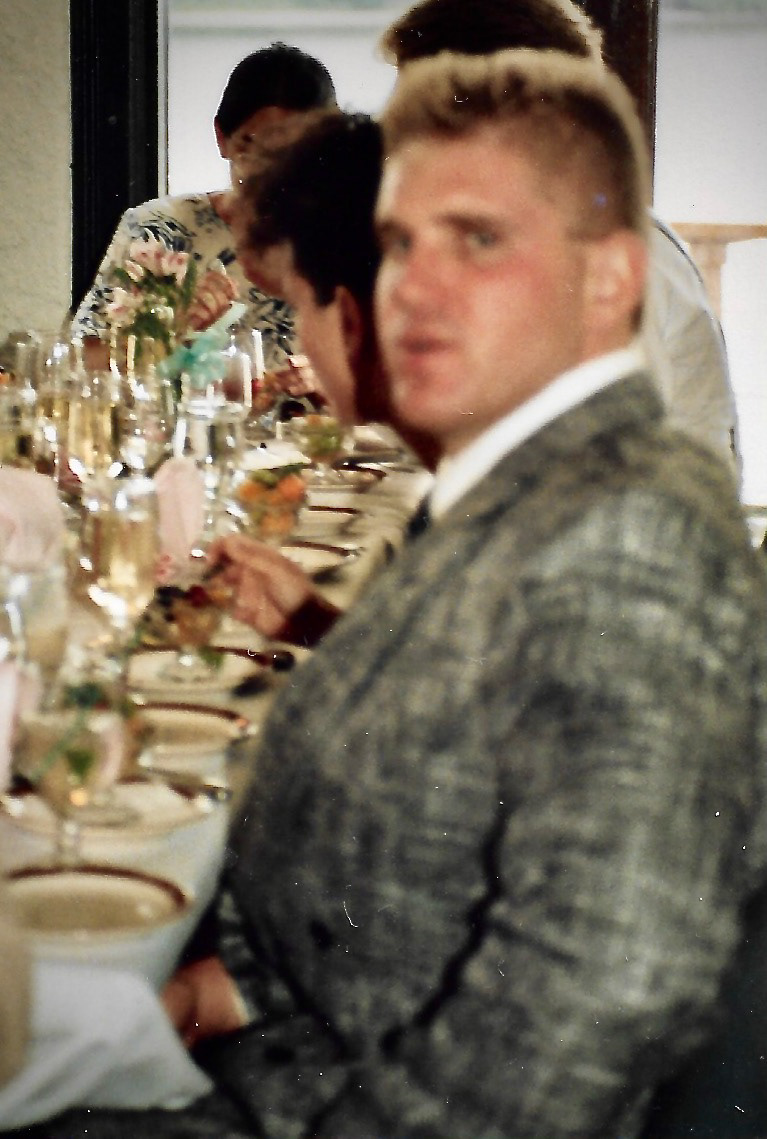 In 2005, Coach Sarlo dedicated an award to honor the memory of his close family friend, Stephen Rockwell.  A former football player and 1982 graduate of Kennedy, Steve was killed in a motorcycle accident in 1988.  He left us way too early, but during his time on this Earth he had a profound impact on everyone in his life. 
The

St

ephen Rockwell Memorial Award, affectionately known as the

'ROCK'

, is awarded to the player who best models the principles of the Foundation of the Kennedy Eagles football program, 

TEAM, COMMITMENT and HARD WORK.  
The 'ROCK'  puts the TEAM first and he makes the commitment to work hard for the success of the TEAM.  He leads with his actions on and off the field.  Above all, he is the player who can still crack a smile and make others laugh after a long, hard practice or a tough loss on game day.  
He not only loves football, but is passionate about life itself.  
Steve Rockwell had those same passions.  
One of Rock's favorite songs was Bobby McFerrin's 1988 hit, 'Don't worry, Be happy'.  That is exactly how Steve lived his life.  No matter what life threw his way, Steve never let anything or anyone bring him down.  He always made others laugh and smile with his sense of humor and a tremendous smile that was contagious!  The two student-athletes honored with the 2023 Stephen Rockwell Memorial Award are seniors, Dereck Ledee and Josh Bayarinas.
As senior captains, Dereck and Josh earned the 'Rock' by their actions as leaders of the football program.  Putting the team first, they both made the commitment to work hard in practice every day.  They battled through the physical demands of the game never missing a practice and playing nearly every play on varsity game day.

​​​​​​​
Dereck and Josh led by example off the field as well.  Josh was an officer in the National Honor Society and the 2022-2023 CIAC Scholar-Athlete of the year.  Dereck participated in the NVL Leadership Conference over the past two years and was a 2021 'Rock' recipient.  We thank them both for their hard work and dedication to the Kennedy Eagles football program and wish them the best in their futures!
The 'ROCK' honorees, 2005-present...
2007-Steve Anton, Ken Fermin, James McColl
2010-Oscar Jean-Baptiste, Travis Johnson, Ryan Boland 
2012-Steven M. Perrone Jr. 
2014-Jake D'Alusio, Stanley Little, Eli Benjamin 
2015-Jordan Crosby-Williams, Bryan Garcia-Medina 
2016-Joe Schaff, JJ Cossette 
2017-Jake Desjardins, Rhakeem Henry
2018-Jake Desjardins, Rhakeem Henry
2021-Damar Byrd, Dereck Ledee
2022-Dereck Ledee, Josh Bayarinas